Have you ever noticed how warm and enjoyable the towels are at the spa? That's because it uses a hot towel cabinet. The best hot towel cabinet not only keeps the towels clean, it also decontaminates them through its built-in sterilizing unit.
What is a Hot Towel Cabinet?
A hot towel warmer or cabinet is a special storage appliance that keeps massage towels fresh and away from unwanted microorganisms. Since it is powered by electricity, it can maintain a certain degree of heat for as long as needed.
These units come in various sizes. Small ones can hold 12 hand towels, while large ones can hold as much as 100 towels. The towels used are usually a little over 26 inches long and 12 inches wide. These are face towels or gym towels that have a GSM value of less than 600. They are small, lightweight, and can be warmed up in a short time. The best hot towel cabinet should be able to easily and quickly heat up towels to make room for more clients.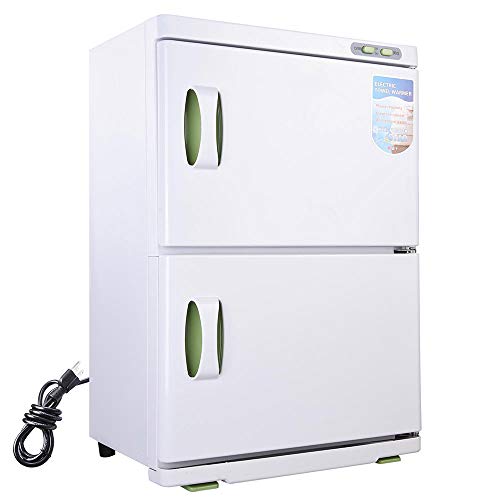 These cabinets typically have simple switches or buttons. The micro computer inside does all the heat-related work, including auto-shutdown when the temperature goes over the limit. Additionally, more pricey units have UV light that can be activated with a flip of the switch. This type of light prevents bacterial growth by making it impossible for microorganisms to thrive in environments similar to the interior of a towel cabinet.
How to Heat Massage Towels
Here's a step-by-step guide on how to warm up your massage towels by using a hot towel cabinet:
Make sure that the towels are clean, dry, and laid out flat.
Add a few drops of essential oil if desired.
Wet the towels using tap or purified water and remove as much excess water as possible.
Pre-heat the hot towel warmer (other units do not need pre-heating).
Roll the towels, put them in the cabinet, and flip the switch to turn the unit on.
Your massage towels are ready to use.
Best Hot Towel Cabinet
We've rounded up the best hot towel cabinet in the market today. Check out these products that will keep your massage towels warm and clean for years to come:
Elite Mini Hot Towel Cabinet
This towel warmer from Elite can hold a maximum of 12 face towels. It also has a 24-capacity variant. It's perfect for small massage establishments and barber shops that provide quick and simple massage therapy services. The unit is insulated with padded heating pads so that the heat inside is distributed consistently. It is also equipped with a sensor to prevent overheating. The temperature can go as high as 160 degrees F (71 C).
AW Towel Warmer Hot Cabinet UV Sterilizer
This 5-liter stainless steel cabinet can hold 10-15 towels that are 26-inches long and 12-inches wide. It also features a built-in UVsterilizer that can be turned on or off with a switch. Its door design ensures that there is plenty of space for all the towels to be dispatched at once. Maximum temperature can go as high as 158 degrees F (70 C).