Just about every office worker must have experienced back pain and stiffness in the neck or lower back area. It's not unusual for an employee to suffer the consequences of sitting most of the time during a shift. An 8-hour job, whether it be in the office or on the field, can surely take a toll on the entire body. Although there is very little that you can do to change your job, there is something that you can do to improve your ordeal. One way to reduce back pain is by using a deep tissue massager. Continue reading to learn about our deep tissue massager reviews.
When a regular trip to the spa is unlikely, a deep tissue massager can be a fantastic alternative. It is practical and can be used anywhere. Indulging yourself in it will lead to a number of positive effects on your back and other parts of the body.
One such positive effect is in improving circulation and blood flow. In turn, it relieves tension in areas where the massager has been placed. Other positive effects include, lower blood pressure as well as reduced stress and anxiety.
Do you want to try it out? Below are 3 deep tissue massager reviews that we have put forth for you:
Pado Pure Wave CM-07 Vibration Therapy Massager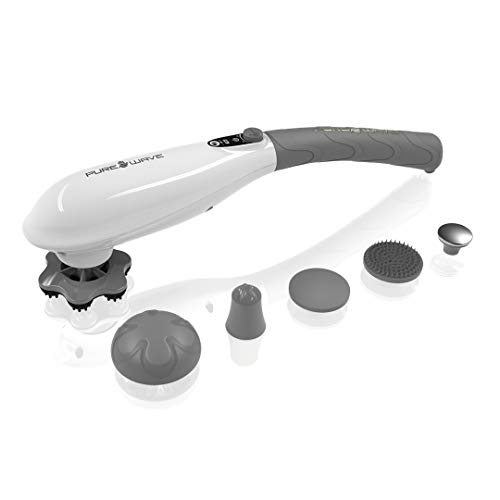 Pado claims that this deep tissue massager is recommended by physical therapists, chiropractors, and sports trainers around the world. With nearly 3,000 reviews and a near perfect rating, the Pure Wave CM-07 is definitely one of the most popular massagers out there.
Specifications:
– Cordless
– 7.2V Lithium-ion 2200mAH rechargeable battery (soldered)
– 180 minutes continuous usage
– Weighs 1.75 lbs.
– 16.5 inches L x 2.5 inches W x 4 inches H
– Dual motor control
– Percussion motor: 1500-3700 RPM
– Facial vibration motor: up to 10,000 RPM
Features:
– Can be used for percussion therapy and microvibration therapy
– Ideal for headaches, jaw pain, and facial massage
– Includes 6 massage sticks (point stick, 6-head stick, air-cushion stick, oil stick, facial massage stick, scalp massage stick)
– 1-year warranty
Pros:
– Effective and can be used on-demand
– Durable motor
– Long battery life
– Responsive customer service
Cons:
– Non-removable battery (has to be replaced by manufacturer)
– Battery has charging/recharging issues
– Can be heavy for some people
– High price
---
Zyllion Shiatsu ZMA-13 Shiatsu Pillow Massager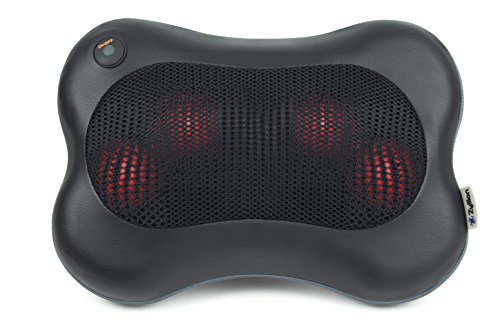 The Zyllion ZMA-13 is an affordable deep tissue massager that's FDA-approved. With nearly 8,000 reviews, there's no doubt that many users are satisfied with this product.
Specifications:
– Electrically powered (not cordless)
– 4 deep-kneading Shiatsu massage nodes
– Heating function
– Overheat protection
– 20 minutes automatic shut-off
– Top quality textured leatherette
– Thickness: 3.5 inches
– Includes a power adapter and a car cigarette lighter adapter
– 1-year warranty
Pros:
– Highly effective and very comfortable
– Sturdy pillow
– Affordable price
– Responsive customer service
Cons:
– Requires an external power source
– Flimsy mesh cover
– Too bulky for the neck
– Interior massage balls are too hard
---
CR-V Massage Ball Roller Stick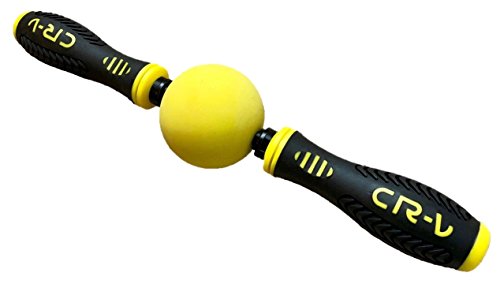 This roller stick from Champion Massage is the simplest among the 3 deep tissue massager reviews in this article. It requires more effort in order to be effective, but it does not need power nor does it cost too much. The design is based on myofascial trigger point therapy, a method used by professionals for injury prevention and muscle recovery acceleration.
Pros:
– Portable and lightweight
– Pressure is totally controlled by you
– Can be frozen and used as an ice pack alternative
– Solid rubber ball
Cons:
– Requires a bit of effort to be effective