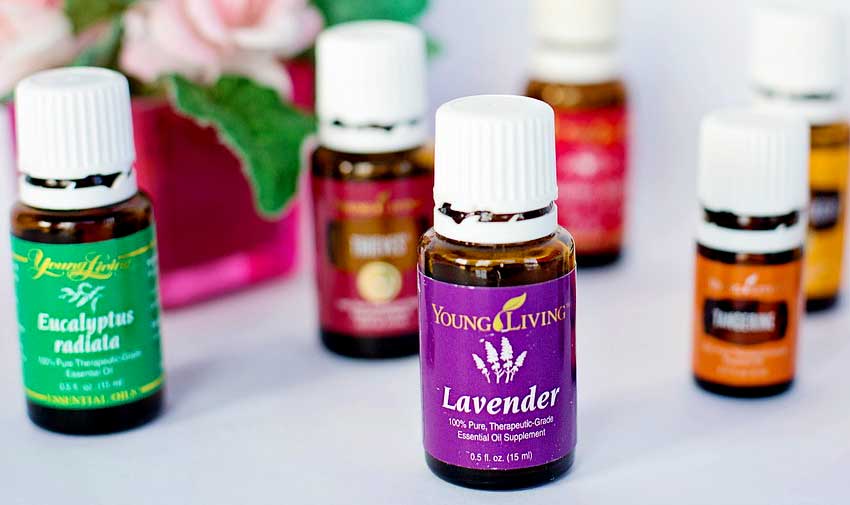 Aromatherapy makes use of plant oils to improve one's health and wellness. The word aroma is often associated with our sense of smell, but that's not necessarily the case in aromatherapy. An aromatherapist can immerse the patient in water, facilitate inhalation, perform massage or simply rub the oil on the skin. This type of therapy is commonly used as a compliment to massage therapy, Reiki or other related practices.
Aromatherapy oils are the bread and butter of this practice. There are many kinds of oil used. We will look at some of them as well as some products that you can buy for your own use.
The essential oils outlined below are basic samplers in 10 ml bottles. They are packaged in sets of 6 or more so that you can try out some of the most common blends and pick your favorite from there.
| Image | Quantity | Item | Blend | Rating |
| --- | --- | --- | --- | --- |
| | 6 | Radha Beauty Aromatherapy Top 6 Essential Oils | Lavender, Tea Tree, Eucalyptus, Peppermint, Lemongrass, Orange | |
| | 6 | Best Blends Pure Therapeutic Grade Essential Oil | Lavender, Peppermint, Bergamot, Patchouli, Ylang-Ylang, Orange, Tea Tree, Lemon and 4 others | |
| | 14 | Fabulous Frannie Aromatherapy Starter Gift Set | Eucalyptus, Grapefruit, Lavender, Lemon, Lemongrass, Lime, Patchouli, Peppermint, Pine, Rosemary, Spearmint, Sweet Orange, Tangerine and Tea Tree | |
| | 6 | Asutra Premium Aromatherapy Mist Gift Set | Lavender, Chamomile, Patchouli, Bergamot, Lemongrass, Jasmine, Citrus, Eucalyptus, Peppermint, Rosemary, Tea Tree, Juniper | |
| | 6 | Edens Garden Therapeutic Grade Aromatherapy Intro Kit | Eucalyptus, Lavender, Lemon, Peppermint, Sweet Orange and Tea Tree | |
| | 20 | Lagunamoon Essential Oils Set | Peppermint, Tea Tree, Lavender, Eucalyptus, Lemongrass | |
| | 6 | Pure Aroma Aromatherapy Oils Gift Set | Eucalyptus, Lavender, Lemon Grass, Orange, Peppermint, Tea Tree | |
| | 12 | Cliganic Organic Aromatherapy Essential Oils Gift Set | Peppermint, Lavender, Eucalyptus, Tea Tree, Lemongrass, Rosemary, Frankincense, Orange, Lemon, Cassia, Cedarwood, Grapefruit | |
| | 15 | PHATOIL Essential Oils Gift Set | Lavender, Eucalyptus, Jasmine, Sweet Orange, Sandalwood, Peppermint, Vanilla, Lemongrass, Rose, Lemon, Ylang Ylang, Tea Tree, Chamomile, Cinnamon, Rosemary | |
| | 14 | Artizen Essential Oil Set | Lavender, Frankincense, Eucalyptus, Cedarwood, Sweet Orange, Rosemary, Tea Tree, Lemon, Peppermint | |
Aromatherapy isn't backed by scientific evidence when it comes to curing or preventing health conditions. However, it is believed that it aids in improving one's well-being. Perhaps staying away from over-the-counter painkillers once in a while and getting a massage as well as aromatherapy regularly can bring balance to your life.
Where to Buy
Essential oils can be purchased in grocery stores, boutique shops or drugstores. A wider range of choices can also be seen online, such as on Amazon. Please refer to the table above and check out the most preferred aromatherapy oils being sold online.
Common Aromatherapy Oils
Eucalyptus
As the name implies, this type of oil comes from the Eucalyptus tree which is common in the Asia Pacific region. Eucalyptus oil is also found in many products of the popular brand, Vicks. The smell is extremely well-known in many parts of the world, especially in tropical countries.
Eucalyptus is known to treat chronic respiratory diseases, such as cold and asthma. It is also used as a decongestant.
Lemon
Bergamot
Peppermint
Lavender
Tea Tree
Tea Tree oil came from the plant, Melaleuca alternifolia and is known to boost the immune system and fight infections. The plant is endemic in Australia.
Traditionally, tee tree oil was used by indigenous eastern Australians to treat coughs and colds. They did this by crushing the leaves and inhaling the oil that was produced. The crushed leaves were also used to treat injury by spreading them on wounds.
Rosemary
How to Use
Watch this 3-minute video so you have an idea on how to use the aromatherapy oils that you've purchase.