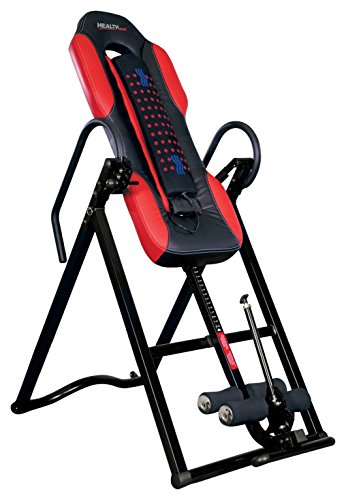 Have you ever had intense back pain? Did you ever feel like the weight of the world is against your shoulders and you just want to unload and relax? There's a guaranteed way to de-stress: Go upside down! It's no joke. It can be done with an inversion table with heat and massage.
Peculiar as it may be, inverting your body can take the burden off of you because it reverses the effects of gravity.
What is an Inversion Table?
An inversion table is an equipment used for inversion therapy. The therapy involves spinal decompression and promises therapeutic benefits.
However, inversion therapy must be used with caution. If you have retinal detachments, glaucoma, pressure on your inner ear, high blood pressure, and other health conditions, you should not be using an inversion table without the doctor's consent.
Once the doctor's consent is secured, the table must be used with care. Start with a subtle 30-60 degree inversion for 15-30 seconds. Make sure NOT to invert your body completely without testing the table out extensively. Just make the necessary settings on the machine, lie down on your back, and slowly tilt your body along with the table. A newer inversion table with heat and massage functions takes you to another level of relaxation.
What are the Benefits of Inversion?
There are several advantages of inversion and having your own inversion table (especially if it is an inversion table with heat and massage). You'll be pleased with how fantastic it can be for your health and overall well-being.
Improves Blood Circulation
Inversion allows newly oxygenated blood to go towards the brain. As one of the major consumers of energy in the body, your brain needs a lot of oxygen to function. Giving it a little boost every now and then will do wonders for one of the organs that does the toughest job.
It also stimulates the lymphatic system.
Improves Your Posture
When you lie on an inversion table, you're making the first steps in the straightening of your pelvic area. Just a few minutes a day will help you align your pelvis and correct a false posture or a tipped pelvis.
A false posture is primarily brought about by sitting for long hours. This is a common concern among people with desk jobs. After doing inversion regularly, you will notice an improvement in your posture.
Relieves Muscle Aches and Back Pain
The number one reason why people try out inversion therapy is because they want a new and effective way to relieve muscle aches and back pain. An inversion table with heat and massage capabilities is the perfect candidate. After all, it does two jobs at once. It is also a more cost-effective way to eliminate the aforementioned problems.
Relieves Stress
Stress is one of the major contributors to health problems. It doesn't just affect your physical capabilities, but your mental abilities as well.
Spend a few minutes on your inversion table, turn up the heat and massage feature, and allow yourself some me time and to contemplate on what your body and mind are saying. In so doing, you will let go of the tensions in your body.
Top 3 Inversion Tables with Heat and Massage
A regular inversion table feels like lying flat on an iron board. Nowadays, an inversion table with heat and massage is better in all aspects. Below are 3 of the most popular and most reliable inversion tables on the market: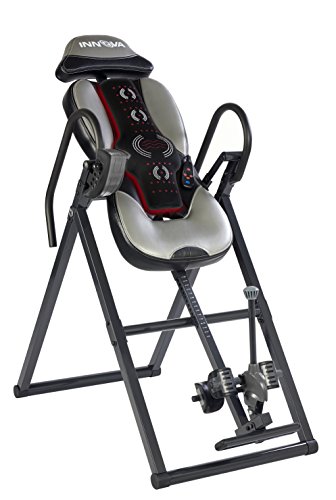 This ergonomically-designed and sophisticated inversion table covers the entire spine to give you a more targeted pain alleviation in the spinal area. As you can see, it even has a vertical massage pad to really hit the sweet spots. You can also change the heat and massage settings to your liking.
The Innova ITM5900 feels stable. It even allows you to make changes in order to find your center of gravity. This results in a more enjoyable inversion session.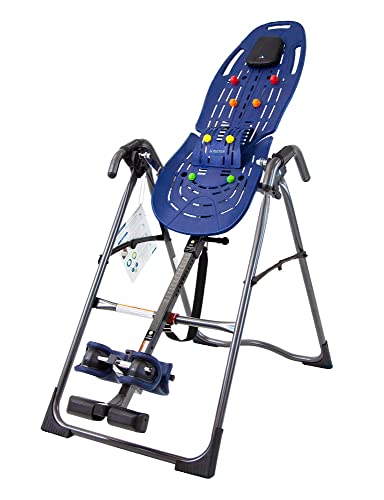 What sets this inversion table apart is that it has Acupressure Nodes that target areas around your back. It also provides a stable support base while giving you a high degree of control over the angle of tilt. Once your body is tilted, the ankle area doesn't feel too strained anymore. It is extremely relaxing.
The Teeter inversion table with heat and massage is easy to assemble. The small drawback of this table is the stiffness of the bed. It doesn't have a foam that follows the shape of your back.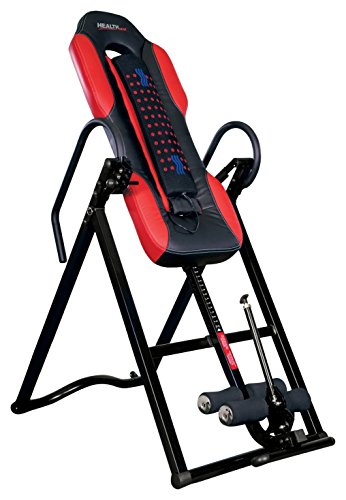 Health Gear is a top brand that takes pride in the safety of their products. All of their inversion tables with heat and massage features were tested thoroughly and have safety and performance standards rated at 50.
The ITM5500 can do some serious heavy-lifting. It can carry up to 300 lbs. of weight. It is also comfortable at the same time, as it creates a snug fit no matter what size you are.
You can easily control the heat and vibration levels with the removable remote that's included in the package. Moreover, the four different tilt options (20/40/60/90) allow you to adjust the angle where you're comfortable in.
Inversion therapy is indeed beneficial to our body. Not only does it relieve pain on your back and spinal areas, but it also helps the psychological aspects of your health.