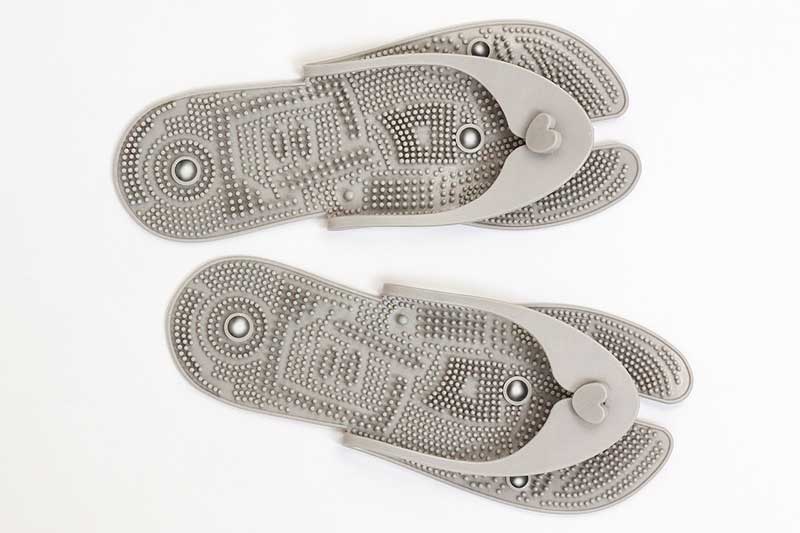 The ancient Chinese believed that there is a life force present in everyone. They called it Qi. It is believed that in order to fill our lives with vigor, our Qi levels need to be restored as well. There are many products that aid in this endeavor nowadays. In this article, we will talk about one of those – acupressure shoes.
What is Acupressure?
Acupressure is a type of non-invasive treatment that is meant to heal different parts of the body using specific pressure points. These pressure points represent various internal and external areas.
It is built upon the premise that our body is a self-healing system. Most of the problems we encounter, like diseases, muscle aches, headaches, and other internal problems are caused by unbalanced Qi levels within this system. Only by balancing the Qi can we maintain good health.
Our feet carry a lot of weight and are exposed to stress throughout the day. Wearing the right acupressure shoes can be a big help in restoring the balance of our Qi.
Before we jump into its benefits, please bear in mind that these footwear items may feel a bit uncomfortable at first. We recommend wearing socks until you're used to them.
Benefits of Acupressure Shoes
Acupressure shoes, or more commonly known as acupressure sandals, provide an easy way for you to rejuvenate your body without having to go to a therapist. Not only will they feel nice and comfortable on your feet when you get used to them, but they will also bring you the following benefits:
Enhanced Blood Circulation
Acupressure sandals help circulate blood. Having good blood circulation is critical in the foot area because they are parts of the body that are farthest to the heart.
Better Sleep
Getting a satisfying foot massage helps the body de-stress and relax. As a result, you will have a more quality sleep.
Alleviate PMS and Menopausal Symptoms
When the Grandfather/Grandson Point located in your inner foot is massaged, it reduces the symptoms of PMS and menopause.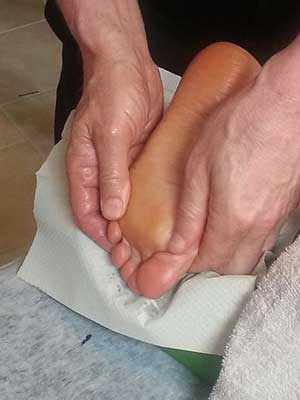 Every woman knows that time of the month is coming when she is subjected to irritability, moodiness, bloating, and even fatigue. Women who are going through menopause also experience similar symptoms at more extreme levels. Regular usage of acupressure shoes will help rid these unwanted symptoms.
Relaxed Mind and Body
Not only does acupressure feel great on your foot, but its effects transcend to the mind and the rest of the body as well. By balancing out your Qi, your body will become more adept at handling stress and its bad side effects. You will generally feel calmer and be able to think more clearly.
Preserves Youthfulness
Studies have shown that the higher the stress level of a person, the faster he or she ages. Because these sandals take off a significant amount of stress, you will feel more productive throughout the day. Maintaining that stress level results in you having a youthful vibe each time.
The Best Acupressure Shoes
There is very little reason why you wouldn't want to own a pair of these footwear. Here are the best ones that we think you'd be glad to try out:
We love the fun look of these acupressure slip-ons. Comfecto Massage Slippers combines the healing power of natural stones and the Qi-balancing effects of reflexology to create the ultimate therapeutic pair.
You won't even have to worry about these slippers catching any bad odors because they have an antimicrobial agent to counter any odor. This particular pair, however, only fits women who have size 9 feet and size 7.5 for men. The company is looking into expanding the size ranges soon.
Like the Comfecto Massage Slippers, the Romonacr Massage Slippers are made with natural stones. These precious stones were carefully selected from various places around the world to better suit your feet and give you a better overall experience.
It comes in two sizes: 7-7.5 inch and 8-8.5 inch. It is indicated that this product is for women, but we have read about men who tried and loved it too.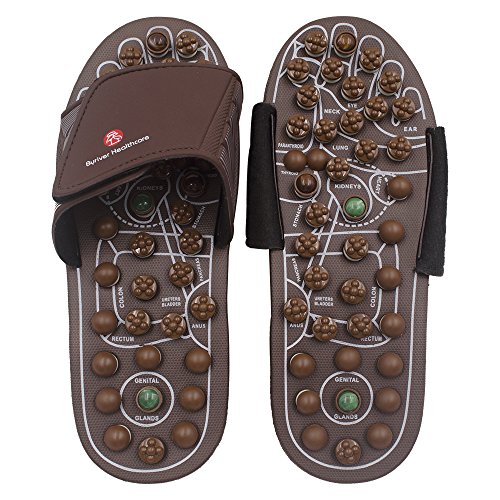 The BYRIVER Acupressure slip-ons come with precious jade stones in strategic areas. The little modules really hit the spot and bring immediate relief.
It has an easy-to-adjust strap for a nice snug fit. There are also several size options to choose from. If you have wide feet, we recommend a size that's one notch higher.
This pair feels very light because of its rotating spring. Additionally, it is made with environment-friendly materials.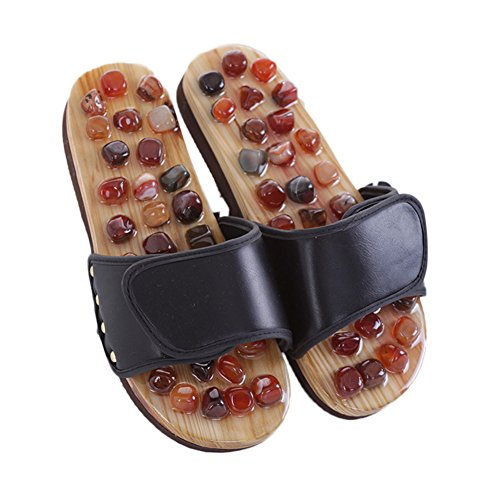 The MineSign Foot Massager is consists of bright and beautiful natural stones on a wooden platform. It aims for a fully natural feel. The stones may look slippery, but they are really non-slip and are firmly attached to the wooden frame. You can feel the quality of these acupressure slip-ons the moment you put them on.
This unique acupressure footwear has spring knobs that massage the different sections of your feet. It helps invigorate the muscle groups and increase blood circulation while you wear them. The Cloris Massage Slippers contains a deodorizing agent that prevents the slippers from absorbing any unwanted smells. It keeps your feet fresh and healthy.
As mentioned above, there are many benefits to getting your own pair of acupressure shoes. So the next time you feel stressed from a long busy day, remember to place (acu)pressure on your feet and not on yourself.